SHIFT is a boutique conference that could not be further from a run-of-the-mill event. A new addition to the international calendar, it will present curated content and high-caliber speakers on a range of compelling topics that invite attendees to listen, discuss, and learn, all held in one of the most spectacular event spaces of the scene. For entrepreneurs Nick and Simone Hartmann, the first SHIFT conference in September 2020 will take their event series to the next level with a fascinating, full-day interactive format that extends far beyond the usual parameters of executive and board search business.
Mehr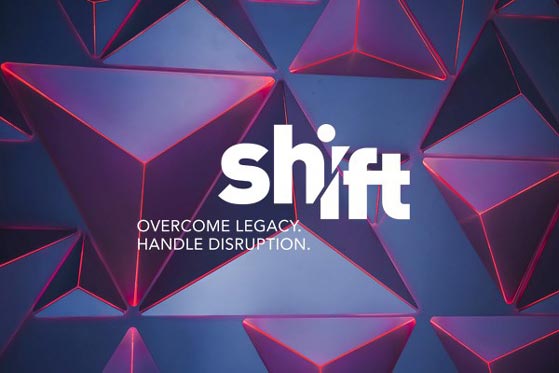 Book now
Speakers



Nina Kalmund

Award-winning Architect, Entrepreneur, Coach & International Speaker




Stefan Mennerich

Director Media, Digital & Communication FC Bayern München




Stefan Ponikva

Vice President Brand Experience BMW




Michael O. Schmutzer

Founder DESIGN OFFICES




Isabel May

Chief Customer Experience Officer & Managing Director MYTHERESA




Dr. Marc Schumacher

Managing Partner LIGANOVA




Marco Raab

Marketing & Branding Expert




Guido Emmerich

Managing Partner AVANTGARDE




Daniel Gehring

Chief Operating Officer ORSAY
Streaming Partner
Sponsors
Supporters
Covid-19 has changed the shape of the global economy and precipitated disruptive forces, driving a shift in society and in consumer demands. Addressing this development, the SHIFT community will meet on September 17 and 18, 2020, to discuss the impacts on consumers and brand performance and explore the changes that may sweep entire industry landscapes in the future.
SHIFT carries the distinctive personal signature of the two entrepreneurs with its focus on building networks, further underlined by the stunning indoor and outdoor settings at hartmann campus in the heart of Munich. Vibrant with innovative power and attracting a growing population of passionate achievers, the city of Munich is the ideal location for SHIFT's premium event format.
Program Day 1
Thursday 17-09-2020
01 Arrival
17:00 – 18:30
Come Together
02 Welcome
18:30 – 18:45
Greeting & Program Agenda
Nick Hartmann – Managing Partner hartmann consultants
Simone Hartmann – Managing Partner hartmann consultants
03 Future Keynote
18:45 – 19:15
Topic Presentation by Dr. Marc Schumacher – Managing Partner LIGANOVA
Thriving through Adversity
Nina Kalmund – Award-Winning Architect, Entrepreneur, Coach & International Speaker
04 Diskussion
19:15 – 19:35
Interactive Discussion Round
Nina Kalmund & Dr. Marc Schumacher
05 Our very own O'Zapft is!
from 19:35
Wiesn Feeling at hartmanns – Oktoberfest Get-Together
Catering by Käfer
Program Day 2
Friday 18-09-2020
01 Future Talk
09:00 – 10:00
New Ways of Working
Michael O. Schmutzer – Founder DESIGN OFFICES
02 Future Keynote
10:00 – 10:30
How the fashion industry got – and will be digital disrupted based on the use case ORSAY
Daniel Gehring – Chief Operating Officer ORSAY
03 Break
10:30 – 11:00
Coffee
04 Future Panel
11:00 – 12:00
Rest in Peace Marketing – The End is Nigh
Marco Raab – Marketing & Branding Expert
Guido Emmerich – Managing Partner AVANTGARDE
05 Future Keynote
12:00 – 13:00
The Future of Joy – How the Experience Economy will shape the Automotive Industry
Stefan Ponikva – Vice President Brand Experience BMW
06 Break
13:00 – 14:00
Lunch
07 Future Talk
14:00 – 14:30
Digital Experience 3.0 – How to create an ultra-lux shopping customer experience
Isabel May – Chief Customer Experience Officer & Managing Director MYTHERESA
08 Future Interview
14:30 – 15:15
Digital Shift for the largest Online Fan Base in the World
Stefan Mennerich – Head of Media Rights and New Media FC BAYERN MÜNCHEN
Interviewer Axel Jahn – Founder & Executive Chairman DIVA-E
Interviewer Oliver Bogatu – General Manager D/A/CH BLOOMREACH
09 Future Keynote
15:15 – 16:00
Handle me if you can – Post COVID-19 Marketing and Consumption Habits
Dr. Marc Schumacher – Managing Partner LIGANOVA
Book now