Digital marketplace vs bricks-and-mortar retailer – why so black and white? Zalando VP Carsten Keller's session addressing the concept of connected retail proved how worthwhile it can be to expand our horizons––and that hope lies ahead for pedestrian zones.
More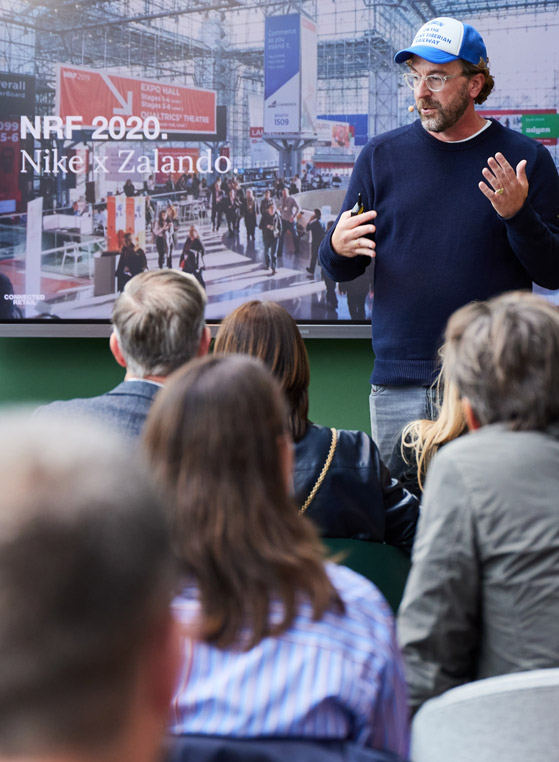 The model was expanding, more and more retailers were coming on board, "everything in the world was rosy––and then that happened…" recalls Dr. Carsten Keller. A slide of a role of toilet paper, and everyone at the SHIFT event knew exactly what he meant. Lockdown! The natural predator, so to speak, of Zalando's new model on the brink of rollout. And yet the idea was clearly so good that not even Covid-19 could stop it.
'Connected retail' started with a simple, yet essential step even for the most successful company––a clear-eyed assessment of weaknesses.
Zalando is the market leader in online retail. 2019 was likewise an extremely successful year, with fourth-quarter sales soaring 19.5 percent to reach EUR 1.9 bn. And yet there were a few problems that the company could not solve alone. Warehouses were often too distant from the customer for same-day delivery; those cool shoes for the weekend party were sold out just when the customer was desperate for them; and many items––like baby onesies––had only ever been spotted by Keller in the display window of a small retailer, but not on Zalando's own website. At that time around 85 percent of Zalando's total stocks were resting in bricks-and-mortar stores, despite Zalando amassing around 45 million customers in Germany.
Identifying the problem, Zalando approached the retailers and convinced thousands of them to adopt its win-win strategy. Representatives of a fashion store––Hagemeyer in the German city of Minden––contributed a video clip showing how they collect the online orders three times a day, pack the boxes, and deliver them. Without Zalando the service would struggle to break even, particularly since their in-store stock is bigger, but also bolder; after all, the online retailer can now process sales from Minden and beyond. "This new model of online/offline from a single source is here to stay. We'll certainly be continuing with it," affirms Hagemeyer's COO Martin Heinzmann.
Cross-examined by event presenter Dr. Marc Schumacher about whether Zalando's concept is not simply a form of artificial life support for street retailers, Keller responded that the stores would always have advantages like 'touch and feel' that were out of reach of online sales. "Retailers can resume their function of providing advice and assistance, and can build up a roster of regular customers from among their Zalando customers," points out Keller, and adds, "We firmly believe that the future of retail lies in establishing this connection."
In other words, one of the major online retail platforms is helping to avert the much-feared phenomenon of desolate city centers in this way. As a positive side-effect, when people order online and collect their goods from the store around the corner or have it delivered, this has the positive side-effect of shortening transport routes and thus saving tonnes of carbon emissions every day.
Keller also described an extreme example of how a single bricks-and-mortar store can achieve success by harnessing the power of platforms. In London, John McPheters opened up his exclusive sneaker business to a broader customer base; after just three years, he sold 'Stadium Goods'–– for $250 million. "Everything will become a platform," predicts Keller. But the store around the corner can continue to play an important role.