Global fashion player Lacoste is currently in the eye of a transformation process––which even extends to its legendary polo shirt. How can a traditional brand with 88 years of history reposition itself in terms of image, digitalization, and sustainability? How much of that tradition is left after the transformation?
More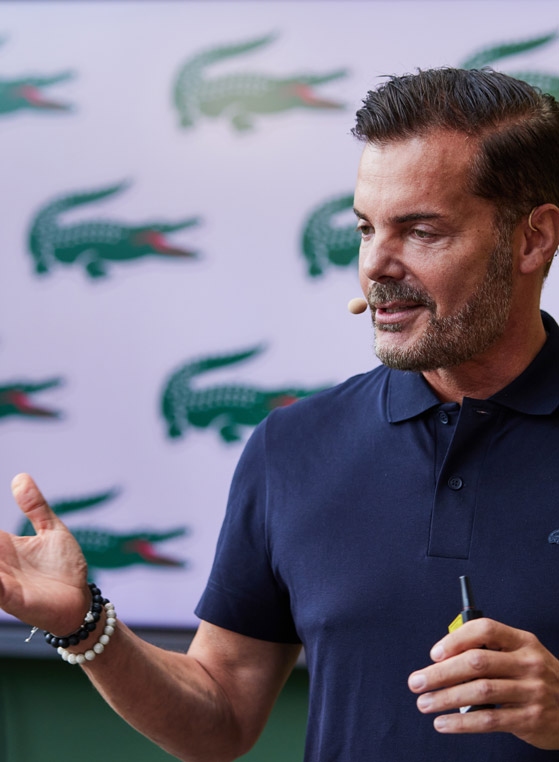 René Lacoste was a visionary, a former tennis player and winner of ten Grand Slam tournaments who invented the polo shirt––but also the tennis ball machine. So it was no coincidence that Dr. Marcus Meyer began his talk about the challenges facing the company with the famous crocodile logo by serving up a bouquet of anecdotes about its founder. As a creative mind, Lacoste would certainly have approved of striking out in bold directions. "Our founder led the way in pouring passion and dedication into every action," said the CEO North and Central Europe.
He went on to affirm, "Then as now, we believe strongly in bricks-and-mortar retail"––although 40 percent of global sales, amounting to around EUR 2 bn, are now generated online. To put it another way, both paths––online business, and tried-and-tested local retailers––will take up equal importance in the future. While there are no plans to neglect traditional heritage customers, the classic polo shirt has been identified as offering the potential for a subtle change of image. It can equally serve as "a symbol of freedom and individuality," noted Meyer, while conceding that the way to that status would be a long one. He confirmed that the company was seeking evolution rather than revolution, exploring bold new collections that would appeal to a younger target group.
And yet Lacoste's transformation into an eco-aware premium label has revolutionary traits. The company has set itself ambitious goals, aiming to double the lifespan of its polo shirts and recycle textiles returned to its stores. This means that customers handing in Grandad's old Lacoste shirts will receive a 20 percent discount on a new product. This incentive may well prove to be more than a mere novelty. As Meyer reports, consumers are often not willing to pay higher prices for recycled or sustainable products: "73 percent talk about sustainability in connection with fashion, but only 0.3 percent actually seek out sustainably manufactured clothing to purchase," says Meyer, quoting from a Berlin study. The company hopes its actions will raise awareness of the importance of a sustainable mindset.
Lacoste published its first Development Report last July, setting forth a strategy it called "durable elegance." This strategy demonstrates that environmental awareness and branding are no longer contradictions in terms, but have become complementary. Lacoste is familiar with consumers' demands for transparency, imposes rigorous environmental standards on its operations, and publishes its carbon emissions and water consumption data. In fact, its commitment even extends to dropping some of its suppliers of raw materials when they failed to meet the required standards.
"As a global brand, we have to see our global responsibility," noted Meyer. The aim, he pointed out, was not merely to sell a marketing instrument, but to actually "live a sustainable life," and numerous other companies had already progressed beyond 'greenwashing." Indeed, our present era––during which textile production has doubled over the past twenty years to 100 billion items––may well be the perfect opportunity to combine sustainability-focused thoughts and actions with a heritage brand that has high quality as its driver: "If I buy a polo shirt for ten euros, I can't really expect it to comply with every ecological standard," pointed out Meyer.