"Overcome Legacy. Handle Disruption" was the headline of the kick-off event at SHIFT, an innovative conference format held on Thursday and Friday, September 17 and 18, in the heart of Munich. Over one and a half days the business platform hartmann campus was transformed by its hosts, entrepreneur couple Nick und Simone Hartmann, into a tailored event hub for the SHIFT community and a place to discuss, exchange ideas, learn, and shape the course of today and tomorrow.
More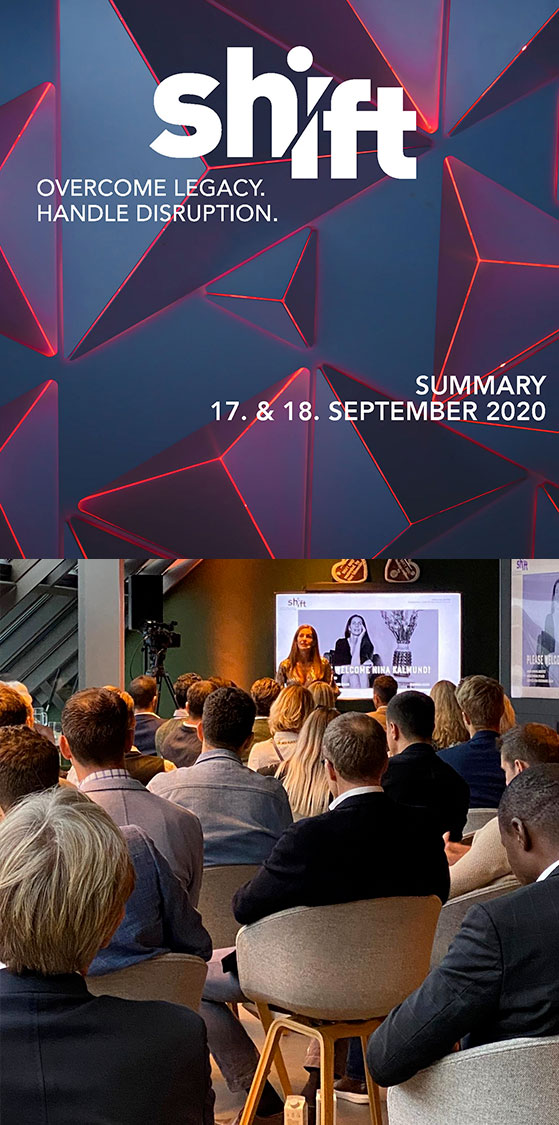 The magnitude and relevance of the topics under discussion––change and designing the future––were spelled out by presenter Marc Schumacher at the start of the boutique conference. Long before Covid-19, the next 20 years had already been mapped out as the most critical decades for the future of humanity, and with good reason. The far-reaching impacts of the coronavirus pandemic now highlight the immense importance of developing new mindsets and finding new solutions. In a nutshell: Handle Disruption.
In a talk entitled "Thriving through Adversity," architect, coach, and SHIFT keynote speaker Nina Kalmund then took the 50-plus top executives in attendance on an inspiring and supremely stimulating journey through her five principles of dealing with disruption––her personal foundations for change.
"To build tall towers, you need to spend a long time on the foundations" is the view of the award-winning architect', well aware of the essential value of a stable and viable substructure. She affirms, "Leaders seeking to shape the future must act on the basis of positive decisions, not react while distracted by external disruption."
The following debate clearly indicated that the five principles presented by this value-driven managerial expert (Freedom, Responsibility, Growth, Openness, and Relationships) had provided extensive food for thought and lasting inspiration for the guests. Speaker and audience agreed that today more than ever, as the world we live in accelerates and changes at a dizzying pace, it is essential to be familiar with our own personal "true north"––the only way that growth can succeed, and the only way that leaders can shape the future.
The following Oktoberfest get-together in the shade of the Frauenkirche recreated the unique atmosphere of the world-famous event and carried the distinctive personal signature of the hosts, entrepreneurs Nick und Simone Hartmann. The perfect conclusion to the first day of the event!