"Work Awesome" – is not just a motto to start (preferably) every day right, but also the name of one of the hottest conferences on the future of work. This year's focal point: innovative organisational models and management concepts. Simone Hartmann was in the thick of it at the sold-out Villa Elisabeth in Berlin and was highly impressed.
more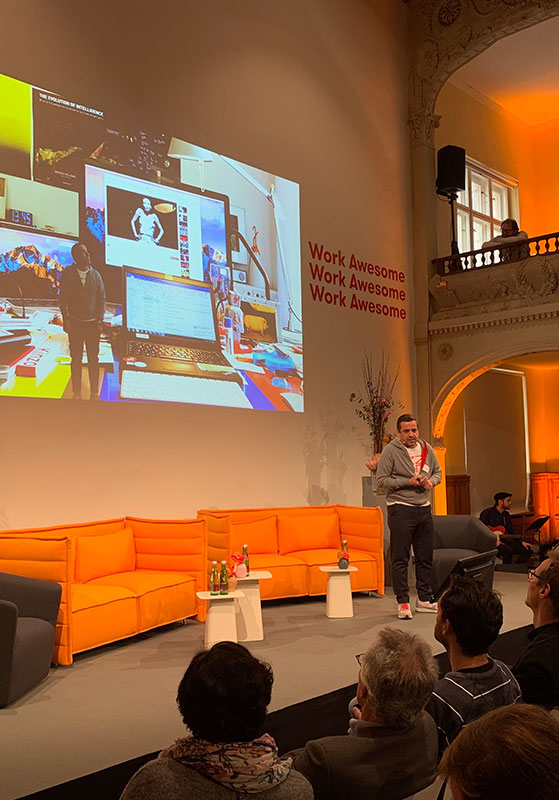 As I set foot in the landmarked pillared hall in central Berlin, my immediate reaction was: if the talks are only half as exciting as the ambience/interior, it was worth the drive! The organizers – German journalists Lars Gaede and Felix Zeltner – made sure that even my arrival transformed into a thoroughly pleasant experience: the coffee is considerably better than at most conferences and a small meditation exercise prepares us to start for the upcoming sessions.
Most notably, they have compiled a very promising programme with one of the most pressing questions asked right on the first panel: "what will desirable future workplaces in Germany look like? And (how) do we get there?" This was discussed amongst three CEOs, each with a lot of experience with the demands of Change management. Admittedly, in her day-to-day business Julia Jäkel, business executive at the media concern Gruner+Jahr, is confronted with very different challenges than Erik Podzuweit in his online investment management company Scalable Capital. Yet still, both have to repeatedly question their business models, as well as the structures of their organizations. Assisting with such complex tasks can Christoph Bornschein, an esteemed partner of hartmann consultants, owner of a digital agency and a highly experienced consultant in change processes.
The extremely lively discussion bestows four aha experiences on me:
Good news for all digital immigrants: Most important for technical innovation are openness and curiosity – whereas expertise itself remains/is subordinate. It can be easily be learnt.
Change needs to begin at a company's heart. It is not enough for a few to walk new paths.
Germany is still lacking ideas on a successful transition to a digital society. Traditional methods of training insufficiently aligned with the challenges of the future. That is why we need tangible solutions: how to organise lifelong learning and training on the job?
To prepare companies for the digital age, participation is of pivotal value. For that they (and their employees) need "inclusive growth". Otherwise, obstacles impossible to conquer emerge within the organization.
Diversity – a must for today's companies fit for tomorrow
After this gripping start follows a keynote speech by Raphael Gielgen centering around future workplace architecture. The Head of Research & Trendscouting at Swiss furniture manufacturer Vitra stressed the importance of interior design. Gielgen travels the world to go hunting for leading examples and found one in Japan. A whole 1.200 square meters of ground floor at the Yahoo Lodge was redesigned into one great coworking space. As a consequence around 500 to 600 external people enter Yahoo's Japanese headquarter. This new openness fosters symbiotic exchange and challenges existing identities! All very inspiring .. we will see if in the future Munich can successfully adopt the concept and establish its own "house of solidarity" – maybe even adding a stylish biophilic design with 40.000 plants a lá Jeff Bezos' The Spheres at Amazon Seattle. Thank you for the inspiration, Raphael Gielgen – this would certainly be awesome.
A wonderful transition to the next panel about the right organisational model for one's own company. Since organisation, after the managing associate of the IT consulting Holger Wolff, is a "biotope" where "various plant may thrive". "May", a word much too weak, in my opinion – diversity is a must for today's companies fit for tomorrow.
Good management – a split between guidance and letting go
This drastically changes the role-based model of management. Employers must provide the right conditions for successful growth – this is why MaibornWolff particularly encourages voluntariness, attentiveness, and self-management. Although, it should not be forgotten that not everyone gets excited by entirely flexible working models and not everyone likes being on a first-name basis – hence why the entire company culture should not be turned upside down immediately. In this context, the CEO of the consulting agency The Dive, Simon Berkler, stressed that there are no "blueprints" for such processes. To him the success of each consecutive step is key. How can management support this? Define meta rules, offer guidance, but also let go. The only question is just when to provide guidance and when to let go.
Luckily, this panel is followed by a round of discussions about "Good guidance in times of radical change". A real treat, seeing as Alexander Birken, chairman of the board at Otto Group, is sitting on the podium. He bears responsibility for more than 50,000 employees, in a sector that will most likely look entirely different in a few years time. This explains his use of strong words: his executive level is in shock. A "cultural" shock, to be exact, that requires a refinement process, similar to marriage counselling. It takes more preoccupation with oneself and the courage to make new experiences. According to Birken, it is "bullshit to talk about new and old work". In fact, it all centers around basic attitude, respect, trust and, not least, promoting a can-do attitude. Birken has a convincing example up his sleeve: at Otto everyone is much happier and sick leave has halved itself ever since employees, instead of managers, write schedules.
"Today's good manager primarily has to be a excellent coach"
Nevertheless, studies show that less than ten percent of companies feel well prepared for modern workplace realities. Heike Bruch, a leadership professor at the University of St. Gallen, highlights the insufficient use of innovative and future-oriented types of work. It is the reason why a specific kind of leadership is in demand: encouraging, purposeful, actively exemplified, with the desire to shape, and confidence, at the same time. Or, in Merete Beckmann's (Google Germany) words: "Today's good manager primarily has to be a excellent coach".
Conclusion: the input was actually – at least – as awesome as the ambience. A great thank you to my colleagues Thomas and Mohsin (professional training is teamwork at our company). I'm leaving with a lot of fresh ideas for our work back home.