We are living through an era in which everything must be possible, everything must be imaginable; this confronts decision-makers with the need for supreme flexibility. In the words of Christopher Sanderson from The Future Laboratory, the foremost ability in this era is "being elastic." Flexibility and versatility are skills that enable their owners to accelerate developments more effectively while responding more efficiently to obstacles.
More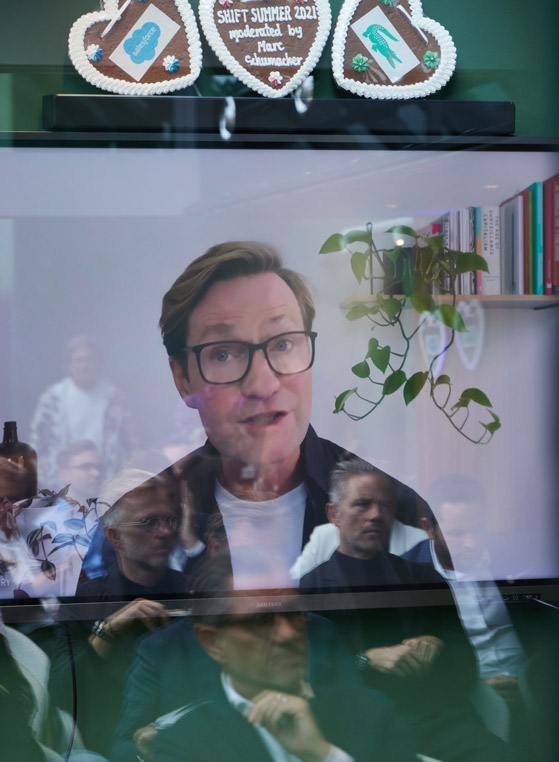 Think of the Burger King king locking lips with Ronald McDonald. Or what about a yoga studio director instantly switching to hot yoga when a glowing meteorite embeds itself in her gym floor? These are two arresting visual examples of Christopher Sanderson's message to his audience: time to emerge from our state of shock and grasp the crisis as an opportunity!
Although the co-founder of The Future Laboratory was unable to visit Munich in person, he and his pioneering colleagues had set up their presence at hartmann consultants' event in the form of a 'mini-lab' introducing the work of LS:N Global. This Future Laboratory division offers companies the opportunity to subscribe to regular reports that help them make well-founded decisions about the future. The lab draws on scientific analyses and combines them with insider information. Front and center is its expertise in areas such as effective analysis of consumer data. Customers that have used The Future Laboratory's keynotes in the past include such varied names and industries as H&M and General Motors, Chanel and Design Hotels.
The upheavals in this rapidly changing world are so far-reaching that Sanderson began his video talk by emphasizing, "Irrelevance awaits anyone who is unwilling to switch up a gear and fundamentally reshape their company to cater to young consumers." Yet Sanderson's warning avoided a mood of dystopia; he ably outlined the prospect of hopeful perspectives for the future arising from such extensive changes of course.
Already a familiar buzzword, resilience took on new significance during the pandemic, not least due to the need for better reactions to natural disasters and other rapid global changes. Sanderson quoted the example of '10 Days in London,' which creates all-new campaigns within a timeframe of just ten days.
A new and different approach, which is proving increasingly popular with the fashion industry, is partnership with influencers in situations such as new collections. Influencers can often generate higher levels of trust than companies can. Other approaches include the appointment of a 'Chief Disaster Officer,' and the willingness to acknowledge new hierarchies to reflect changing consumer behaviors: "You can start to expect to see that people, from consumers to your suppliers, will have an equal say in your future. And as co-creation booms, your customers will soon become your creative directors." In Sanderson's view, the most important step is to embed serious moral and ecological aspects into corporate philosophy in order to communicate the feeling of belonging and identification among consumers. Sanderson warned that in this context and in response to global disasters, it was high time to replace competition with collaboration as a driving principle–– at least partially.
To conclude the conference, the talk from SHIFT sponsor Salesforce clearly revealed the extent to which analysts' observations overlap and point in a common direction. The company called for the dissolution of existing structures to be grasped as an opportunity. When Matt Marcotte––joining the conference virtually from Boston––and Nino Bergfeld discussed the idea that retailers should drop their separation of profit and loss into online and physical store sales, they meant precisely the flexibility that Sanderson is also calling for: many of the old mindsets and thought patterns no longer make sense.
Salesforce's advice is: "Listen, learn, and react to customers and their changed expectations, especially among Generation Z." He warns that many companies are still not making the most of the data they collect for that very purpose––yet in many cases those data would be sufficient to understand new consumer behavior and draw the necessary conclusions for their company.