One day before the opening of Berlin Fashion Week this June, Hartmann Consultants held their third hc privée event in the Pauly-Saal restaurant in Berlin. The distinguished speakers at the event were Dr. Marc Schumacher and Anita Tillmann.
Marc Schumacher is an acclaimed expert in marketing strategy and retail, a sought-after keynote speaker and lecturer at HHL Leipzig Graduate School of Management. The Managing Partner of Liganova and the Zeitgeist Group is thoroughly familiar with trends and developments, and knows that "consumers are willing to pay well for genuine experiences – and those experiences cannot be found in the virtual world."
more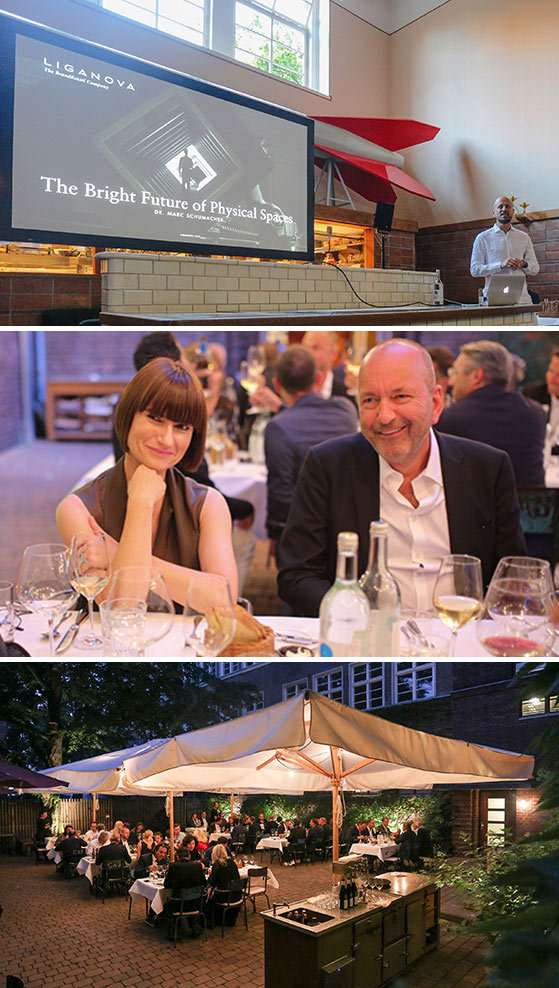 The topic he had chosen was "The bright future of physical spaces." The audience of 60 invited guests was fascinated by Schumacher's bold account of why physical space will continue to maintain its importance as a location where consumers encounter brands and products – especially in our connected age. He called upon brands to think outside the confines of mere sales figures and instead work on creating unique worlds, explaining, "Today, we operate in an experience economy."
Bold, adventurous brand showcasing can counteract online shopping
Shopping, said Schumacher, had to become an experience to prevent conventional shopping malls from dying out as people moved their shopping habits online. He announced that "there are incredible areas of potential for bold, adventurous brand showcasing." The next speaker, Anita Tillmann – Managing Partner of Premium Group and Station Berlin – whole-heartedly agreed. Tillmann is a key mover and shaker on Berlin's new fashion scene and specializes in trade shows including Premium, which has become the most important part of Berlin Fashion Week.
"Every day we ask ourselves what we can offer our customers to make their physical attendance of our events worth their while," said the successful entrepreneur. "There's no longer any such thing as 'just' a trade show. Instead, we curate a blend of trade show, conference, and event, and permanently set our sights on creating uniqueness." She noted that while showing interest and curiosity in the new and emerging possibilities, the industry was still hampered by fear and doubt. "And yet #fashiontech, our new event format, clearly demonstrates that fashion is an area with the potential to benefit enormously from technological advances."
"Thanks to the Internet, we are living in the best of all possible worlds"
This view unites Anita Tillmann and Marc Schuhmacher in agreement. Their view of the future is an optimistic one, with robotics and artificial intelligence opening up opportunities for the fashion industry. "Thanks to the Internet, we are living in the best of all possible worlds," concluded Dr. Schumacher, "and if we tackle it in the right way, we can make it even better." Anita Tillmann added, "There are so many young people out there that are avid to embrace these new opportunities. We should take our inspiration from their enthusiasm."
In the beautiful courtyard of the former girls' school in Auguststrasse, the audience – exclusively comprising decision-makers in the fashion and lifestyle industries – continued to discuss the issues long after the speeches were over. The balmy summer evening drew to a close over canapés and drinks.
"As our outstanding speakers pointed out, human contact – face-to-face – is still unexcelled," concluded hosts Simone und Nick Hartmann in summing up their third "HC privée."