hartmann consultants has welcomed Burkhard Stuhlemmer to its ranks as new Senior Partner. After a 40-year career in top management positions at IBM and Olympus in the technology industry and at numerous fashion companies including Camano, Baldessarini, and Tom Tailor, the executive and business coach will now drive the development of hartmann consultants. An interview about plans, challenges, and the crisis facing the SME fashion sector.
More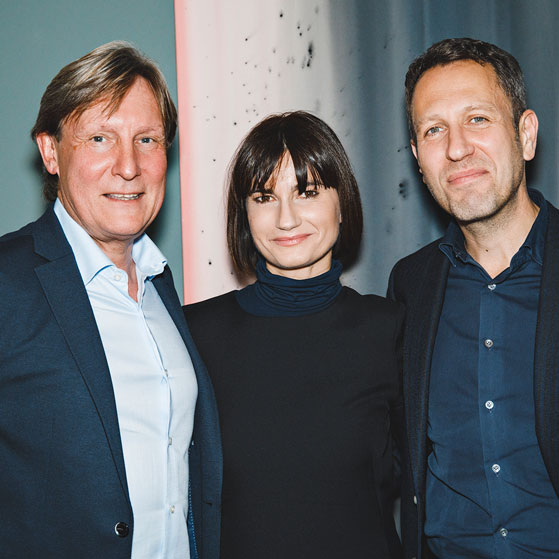 Mr Stuhlemmer, what made you decide to join hartmann consultants?
Burkhard Stuhlemmer: I've known Nick for over twenty years and have long worked with him, and later also Simone, both as client and candidate. After an interesting career as an entrepreneur, manager, and consultant for systems implementation in the fashion industry, I was seeking new challenges and took a look at a few companies. But the trust-based relationship I have with Nick and Simone was head and shoulders above anything else I encountered, so that my decision was a very easy one.
It seems to be the perfect time for change; hartmann consultants is also in the midst of a change process.
Yes, absolutely; the time is right, and the time is necessary. The Hartmanns' plans for defining new business areas in consulting, leadership coaching, and organizational development are the ideal complement to executive search services, because these areas provide the client with added value above and beyond their recruitment needs.
Do you have an agenda for your first 100 days?
One milestone in our service portfolio will definitely be to combine leadership coaching with HR consulting. In terms of hartmann consultants specifically, the aim will be to find the right people to take on our transformation tasks and drive our organization and our corporate culture.
"We will combine leadership coaching with HR consulting"
What does that mean for the customer relations of the future?
Customer relations will be longer-standing, and they will be more multifaceted. hartmann consultants has already built a reputation for supporting candidates beyond the start of their new positions, and not simply handing them over to the client. In the future this support will be even further-reaching and will help companies to tackle and master the changes they have planned. The industry is under pressure to introduce digital transformation, and this will require companies to become ambidextrous, so to speak. Corporate cultures and organizational structures will be forced to change. But we have such in-depth experience of the fashion and lifestyle industry, especially its SMEs, that we are in an excellent position to generate added value.
Become ambidextrous? Could you explain that, please?
I'm a child of the kaizen doctrine from the 70s and 80s, and at the time I spent a lot of time studying the topic of ambidexterity from the Toyota model. I was guided by the research of Robert B. Duncan, and later by Michael Tushman and Charles A. O'Reilly, who developed the subject further. For me, ambidexterity is a company's ability to address the requirements of day-to-day business operations, but also tackle the need to advance and develop innovative ideas.
The art is to link routine operations so closely with innovation that they form an integrated work of art that is lived and breathed as such.
But don't fashion companies constantly develop new works of art?
Do you think so? I think most of the industry is just treading water. Innovative ideas can no longer be found in original fashion or in the forms of presentation that are used. Pants, dresses, whatever, we know all this stuff. They're nothing more than rinse-and-repeat ideas with a modern veneer. The retail industry hasn't yet been able to reinvent the display window. We need to develop technological products and link them with the core product.
Could you give us a concrete example?
Well, one innovation was "Second Life." You might remember it; it was an online platform, a digital world in which companies could set up digital showrooms. A lot of fashion companies were involved in a big way, but without any form of long-term entrepreneurial plan. Instead of assigning these projects to separate external innovation specialists, companies simply handed them over to their own operational organizations. But those structures aren't agile enough, so that the projects tail off without achieving anything and the company goes back to the same old routine.
Fashion companies, particularly SMEs, urgently need an innovation hub embedded in an ambidextrous organization.
Could you give us more details?
Companies need more pioneers that know their way around technology and are able to rethink their organization from the inside out. Everyone should invest part of their working hours in things that have nothing to do with their actual work. It's not about hunting for concrete innovations; it's about promoting exploration of new areas. This kind of free thinking is the only way that our understanding of digital transformation will succeed.
So which companies in the industry could serve as role models for fashion companies?
Most companies that are founded as startups. That's because they work on a completely different set of organizational structures; they are functional, not isolated in silo mentality. People don't hang around waiting to be given an assignment – a form of behavior I constantly see even from high-level executives working for well-established brands.
"First and foremost, digitalization requires cultural change, not technological change"
What does that mean for executives in the industry? Does the fashion industry need different managers, or different skill sets?
We still need people that are familiar with the industry and grew up with it, but they have to be open to technology. Not only in a technical sense, but also in the sense of transforming their organization. First and foremost, digitalization requires cultural change, not technological change.
Has the industry realized that?
The sporting goods industry has long known that, and most of the luxury goods industry too, but I don't think lower levels and SMEs have realized it to the same extent, if at all.
What does that mean for those companies?
The short, sharp shock that some day they will no longer be there.
What kind of intervention does hartmann consultants aim to offer in this situation?
Seeking out the right executives, but also educating companies, helping them to define the right profiles for their positions and aligning their organizational structures to make the most of them. Sure, I can recruit Apple's very best manager for a client, but if the organization of the client's company isn't set up to make the most of him and lacks the most basic digital transformation, he'll be a failure. He'll turn the company upside down, everyone will just shake their heads, and after six months he'll give up and leave in frustration. That's what we want to prevent.