Michael O. Schmutzer  was establishing Design Offices before the word "coworking" had even been invented. The Franconian visionary talks about how he developed his idea and the way he sees the world of work today and tomorrow.
A man with sound instincts: twelve years ago, Michael Schmutzer was already deeply mulling over what the world of work could be like in the future. Those were days when "New Work" would probably be red-penned as a typing mistake for a major US metropolis. Today we have arrived at the future Schmutzer predicted back then; but our future still extends ahead of us, day by day.
More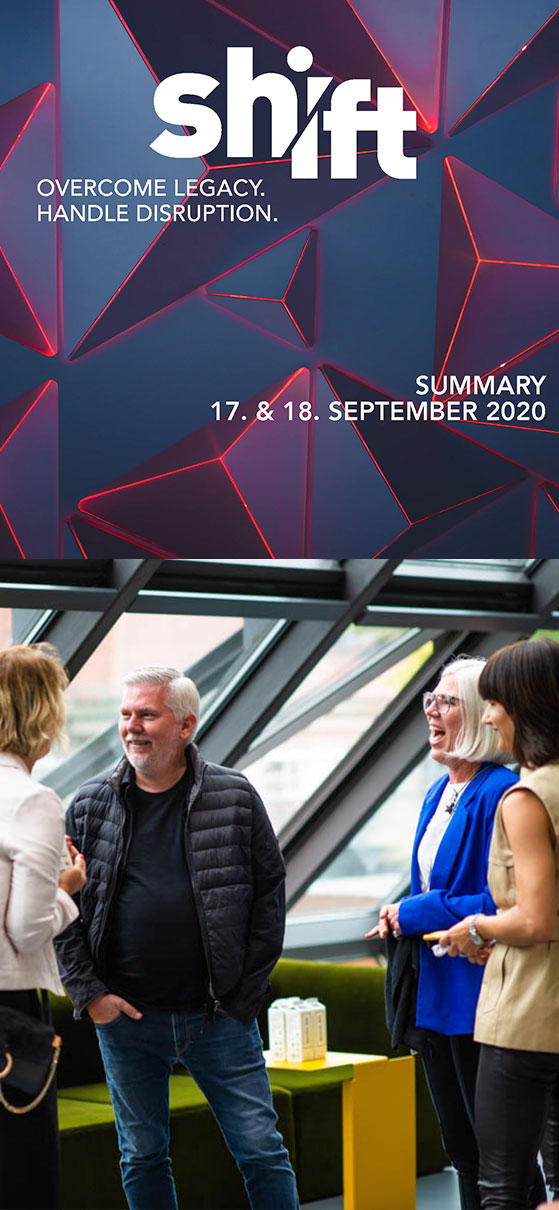 In 2008 Schmutzer founded Design Offices, a concept with a success story he can proudly present today—as here, at the SHIFT boutique conference at hartmann campus in Munich. The company's own website states: "Design Offices is the number one address for corporate coworking and leading workspace-as-a-service provider in Germany. We offer flexible work environments that promote innovation and agile work cultures. By shaping the new world of work, we are making significant contributions to the successful transformation of companies."
Schmutzer explains in detail what that actually means. For example, the move away from "office rental contracts for ten or 15 years." In Schmutzer's words, "If we can only think two or three years ahead in our business, why should we go ahead and sign a rental contract for ten years?" In addition, the collapse of Lehman Brothers in 2008 not only resulted in vacancy rates of almost ten percent for office space; Schmutzer also noticed that in addition, 60 percent of contracts were signed by companies seeking less than 300 square meters. Too insignificant for the heavy hitters on the real estate market, but very interesting for Schmutzer. His first business idea involved the model of a central conference center and business center combined. Although not everything ran smoothly in the beginning ("I soon learned to deal with setbacks"), the model rapid proved to be an overall success, and Design Offices was born—a provider of coworking spaces and premises tailored to agile working. Today the company can be found at almost 40 locations in 15 German cities, with a total of around 173,000 square meters of working space.
There was plenty to learn as the years went by. For example, that "people come back if the service was good," not merely because the décor was appealing. A fact that Schmutzer had not been sufficiently aware of in the beginning; after all, the company was even named "Design Offices." Another key learning was that too much transparency in extensive open-plan spaces is not always desirable: "Companies working on innovations don't want someone looking over their shoulder." So glass partitions became privacy screens, and Schmutzer realized "that we need to offer different products"—in this case individual offices, project offices, and working lofts. Today 15,000 people spend their working day in one of Schmutzer's office spaces.
Schmutzer is also continuously confronted with the disruptive properties of today's world of work. "In the old world of work, the working location reflected our status. Today nobody cares," he explains. "Today's working environment has to suit the task at hand." The coronavirus crisis is spurring further radical changes, starting with the phenomenon of working from home. "Our challenge right now is that we don't yet know how it works," says Schmutzer. He calls for a bold mindset with the courage to try out new ideas, noting that despite—or, perhaps, even because of—working from home, offices have become places for people to meet proactively and communication spaces must therefore be completely redesigned with this in mind. No more cramped, dark kitchenettes, which are still the only such space for many offices. "We need the courage to work with our teams and investigate the right way of working, the way we want to work." Again, a challenge given that "90 percent of people are afraid of change," admits Schmutzer; however, "we have to address change, particularly in the midst of the crisis, and ask the question: what comes next?"
Michael O. Schmutzer has no fear of change; he even left the Board of Management after twelve years to pursue his role as "a pioneer" who builds new things. His projects for the future include "making country life more attractive"; to this end, he has remodeled a historical Baroque farmyard to create a center of encounter.