hartmanns is the brand name for the new rental business of the team behind hartmann consultants. An interview with Managing Director Nick Hartmann
More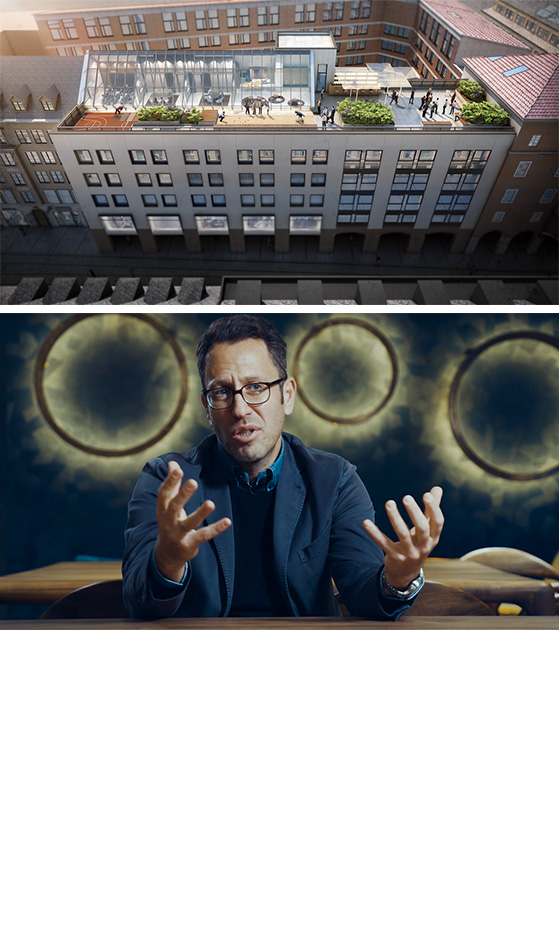 Nick, last winter you announced the foundation of hartmann campus and outlined the brand concept behind it. Now it's followed by your third brand, hartmanns. Tell us about your strategy.
Nick Hartmann: We realized that our completely redesigned penthouse floor and huge roof terrace above our hartmann consultants offices in Maffeistrasse offered us a host of new opportunities. One of these is that in our capacity as transformation partner for our clients, we can regularly hold our own specialist events for them and bring together visionary thinkers from a whole range of different industries. In keeping with our philosophy of Connecting Competence, we believe this content and industry-based element is now more central to our core business at hartmann consultants than ever before. In parallel, we will continuously expand the academy concept under the hartmann campus brand in the future.
The past weeks have shown the enormous level of interest in these premises and terrace; companies and individuals alike are lining up with inquiries for their own events. To cater to this interest, we will rent the premises in full or in part, under the separate brand of hartmanns.
What made you decide on the name?
The clients who rent our penthouse floor and terrace can have the full premises at their disposal if they wish; we invite them to make hartmanns their own. This includes all the various facets offered by the indoor and outdoor areas, the premium quality fit-out, facilities, and design, and our personal client care services. This personal touch – already a hallmark of hartmann consultants – is captured in the name we have given to our rental operations. It was only logical to extend this hallmark service quality to our third brand, hartmanns. We don't provide cookie-cutter events; instead, we pride ourselves on individual care and a full range of services for all our guests.
We also thought carefully about what makes the space so special. It's the location, of course; this 400-square-meter roof terrace, with its stunning views of the cathedral, Munich City Hall and the ancient Alter Peter church, is unique in the whole of Munich city center. And so the slogan we chose was, "Your Business. Your Event. Elevated."
In your view, what does full service involve?
It means that if they wish, our guests need not worry about a single thing – apart from filling out a detailed checklist of their preferences. We and our event managers take care of all the rest, from state-of-the-art conference equipment for business events and highly professional fully staffed catering to DJs and décor for private parties – and much more.
What kind of events can be held at the premises?
The space is modular; it's made up of the huge terrace plus three areas which can be used separately or combined into one. It's so versatile that its uses are virtually unlimited. A very cool, very high-caliber opening event was a four-day pop-up showroom where the outstanding fashion labels of GAUCHERE, VICTOR FOXTROT, and STIEBICH & RIETH transformed hartmanns – still partly under completion at the time – into a fashion hub with edgy industrial flair. But we've already received numerous enquiries about team meetings for major fashion companies, offsite management board conferences, and all kinds of private events.
Could you explain "virtually unlimited" in more detail?
Sure! Based on size alone, the roof terrace could house a tennis tournament – but the city probably wouldn't approve. It's still big enough for sports, so we're planning a multifunctional area divided off by greenery. It will be ideal for summer parties – or even for a Christmas market, where our boules terrain can be transformed into a Bavarian curling rink.
How would you sum up the advantages of the hartmanns space in a single sentence?
"Work. Play. Connect." To me, that expresses everything that makes the hartmanns brand so special.